Our technician at Los-Alamos research laboratories have been working night and day on a new computer application that will allow you to create crop circles in the comfort of your own home... honest. 'The Circlemaker' is now available for download.


[ approx 3mb mac only. ]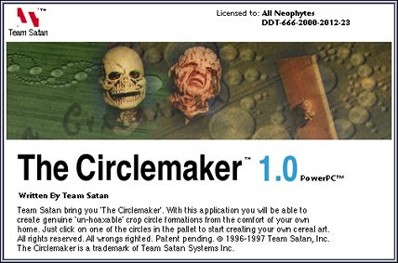 download: circlemaker.sit



Another season approcahes, but in the meantime if you're a veteran or a neophyte you can now spent the spring making circles from the comfort of your own home. This version of "The Circlemaker" includes a choice of either barley or wheat in which to make your cereal art, a series of geometric grids covering 5, 4, and 3 fold geometries to help structure your designs as well as a gallery of formations made by the 'circlemakers' using "The Circlemaker" to inspire you. If you manage to produce anything half decent send us a screenshot and if we get enough we'll start a gallery.

Conditions of use: "The Circlemaker" is cropware. This means that if you download "The Circlemaker" we expect to see you in the fields this year...