As popular culture continues to feed on the crop circle mystery, circles can sometimes crop up in the strangest of places. If you look closely you'll see a simple circle (pictured right) slap bang in the middle - 13 seconds from the start to be precise - of the Halifax Bank's recent television adverts that have aired here in the UK. But blink and you might miss it, as it's only on screen for a couple of seconds. The advert is called "X Bomb" and features a reworked version of Tom Jones' "Sex Bomb" as its soundtrack. The star of the advert Howard Brown is actually a customer services adviser from the Sheldon branch of Halifax in Birmingham. We see Howard dancing and singing his way through an bizarre world where fish sing (see below), horses jump over hedges backwards and if you look carefully crop circles appear! The advert has been very successful apparently generating more interest than any other ad campaign in the UK this year, the advert went straight in at No 1 in Marketing Magazine's Adwatch survey. It was created by the advertising agency Delaney Lund Knox Warren (DLKW) and was shot over three weeks in South Africa last year. The crop circle was apparently made in South Africa by the camera crew! DLKW told me they decided to use a crop circle in the advert "Because it's a striking visual image". To prove the point, the advert has recently been recut and aired with a longer clip of Howard Singing and dancing in the crop circle. I hope the cameramen were members of the circlemakers union!

Watch the advert: RealVideo

Links: DLKW | Halifax Bank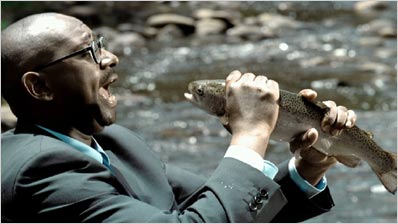 Photo Credits: © Halifax.